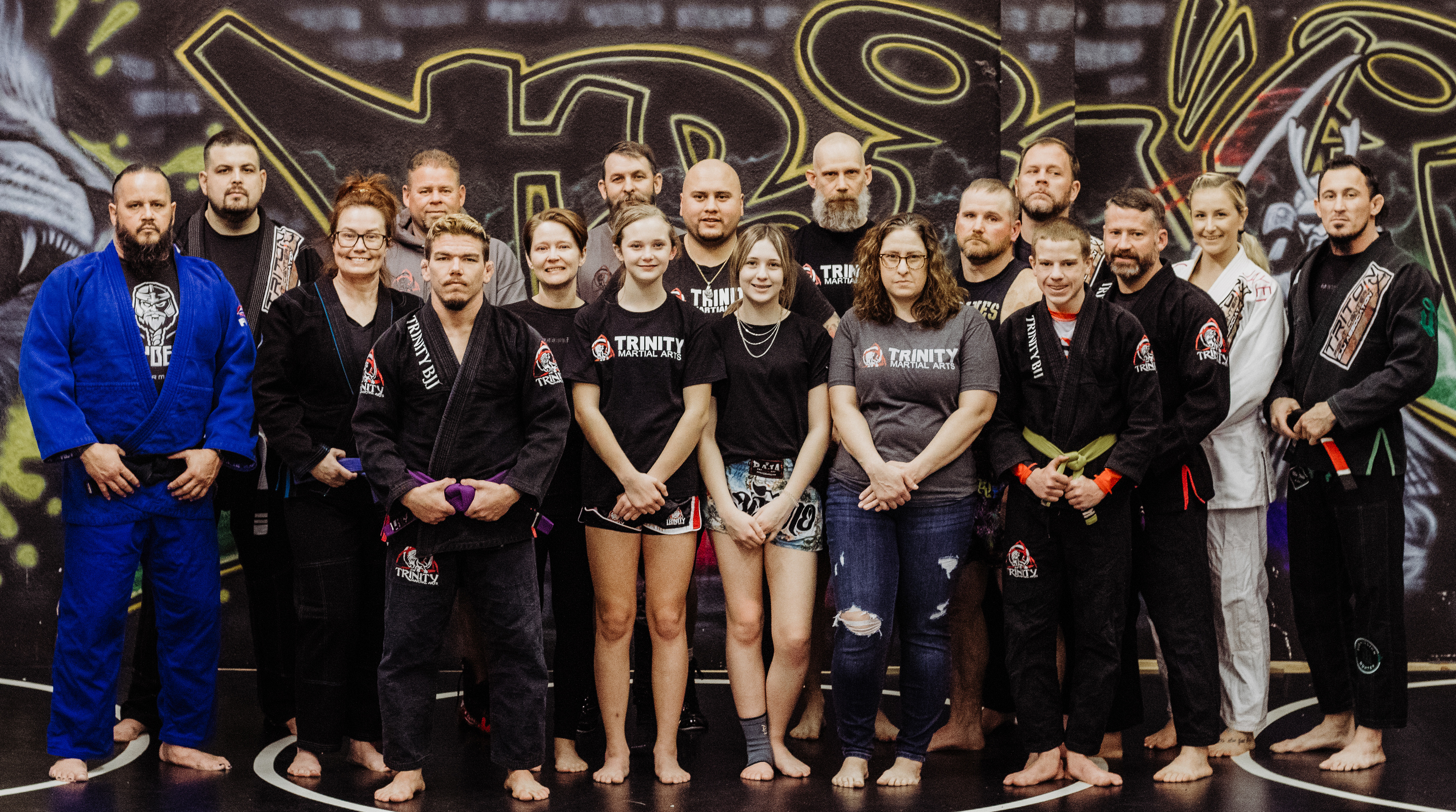 Please see our detailed schedule or click the link below to see our schedule in a calendar view.

Trinity Martial Arts is open Monday through Friday morning and evenings and Saturday afternoons!

Private lessons and/or sessions are available upon request.




Be sure to check out our FAQ page and our Class descriptions for more detailed information on each class we offer.

See you on the mats!
Martial Arts Class Schedule
MONDAY
5:30pm- 6:30pm: Kids Brazilian Jiu-Jitsu
6:00pm-6:30pm: Beginners Brazilian Jiu-Jitsu (Mat 2)

6:30pm-7:30pm: Adult Brazilian Jiu-Jitsu
Tuesday
5:30pm-6:30pm: Kids Muay Thai (kickboxing)
5:30pm-6:30pm: Adult Nogi (Mat 2)

5:30pm-6:30pm: Teen/Adult Boxing (Boxing Ring)
6:30pm-7:30pm: Adult Muay Thai (kickboxing)
6:30pm-7:30pm: Judo (Mat 2)

6:30pm-7:30pm: Kids Boxing (Boxing Ring)
7:30pm-8:30pm: MMA/ Fight Camp
Wednesday

5:30pm-6:30pm: Kids Brazilian Jiu-Jitsu
5:30pm-6:30pm: Advanced Kids Muay Thai (Boxing Ring)
6:30pm-7:30pm: Adult Brazilian Jiu-Jitsu

6:30pm-7:30pm: Adult Muay Thai (kickboxing)

7:30pm-8:30pm MMA/ Fight Camp
Thursday
5:30pm-6:30pm: Kids Muay Thai (kickboxing)
5:30pm-6:30pm: Adult BJJ (Advanced drilling)
5:30pm-6:30pm: Teen/Adult Boxing (Boxing Ring)
6:30pm-7:30pm: Adult Muay Thai (kickboxing)
6:30pm-7:30pm: Judo (Mat 2)
6:30pm-7:30pm: Kids Boxing (Boxing Ring)
7:30pm-8:30pm: MMA/ Fight Camp
Friday
5:30pm-6:30pm: Kids Brazilian Jiu-Jitsu
6:30pm-8:00pm: Open Mat
Saturday
12:00pm-2:00pm: Open Mat
Fitness Classes & Rec Area
Monday
5:30am-6:30am: Trinity Fitness (Tri-Fit, Instructor-Led)
9:00am-10:00am: Trinity Fitness (Tri-Fit, Instructor-Led)
5:30pm-6:30pm:Trinity Fitness (Tri-Fit, Instructor-Led)
6:30pm-8:00pm: WOD & HIIT (Open Floor)
Tuesday
5:30am-6:30am: Trinity Fitness (Tri-Fit, Instructor-Led)
9:00am-10:00am: Trinity Fitness (Tri-Fit, Instructor-Led)
5:30pm-6:30pm:Trinity Fitness (Tri-Fit, Instructor-Led)
6:30pm-8:00pm: WOD & HIIT (Open Floor)
Wednesday
5:30am-6:30am: Trinity Fitness (Tri-Fit, Instructor-Led)
9:00am-10:00am: Trinity Fitness (Tri-Fit, Instructor-Led)
5:30pm-6:30pm:Trinity Fitness (Tri-Fit, Instructor-Led)
6:30pm-8:00pm: WOD & HIIT (Open Floor)
Thursday
5:30am-6:30am: Trinity Fitness (Tri-Fit, Instructor-Led)
9:00am-10:00am: Trinity Fitness (Tri-Fit, Instructor-Led)
5:30pm-6:30pm:Trinity Fitness (Tri-Fit, Instructor-Led)
6:30pm-8:00pm: WOD & HIIT (Open Floor)
Friday
5:30am-6:30am: Trinity Fitness (Tri-Fit, Instructor-Led)
9:00am-10:00am: Trinity Fitness (Tri-Fit, Instructor-Led)
6:30pm-8:00pm: WOD & HIIT (Open Floor)
Saturday
12:00pm-2:00pm: WOD & HIIT (Open Floor)